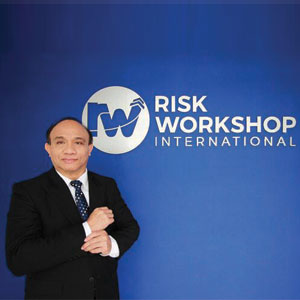 Deddy Jacobus, Chairman
Most businesses today are neither aware of risk management's significance, nor do they have access to effective tools to manage risks. These shortcomings restrict them to take a reactive approach for risk mitigation. Enter Risk Workshop International (RWI), a company that brings a paradigm shift in the way organizations approach risk management. RWI's transformational technology and services foster a backward-looking to a forward-looking, future-oriented mindset for risk management. "We allow organizations to have a quick win by proactively managing enterprise risks and taking the essential steps to explore their business opportunities," says Deddy Jacobus, Chairman, RWI. "With innovative risk modelling and early warning system technology, we help companies realize the true potential of risk management in improving business outcomes."
RWI takes a nuanced approach to portend the potential threats and risks to a business establishment. At the outset of client engagement, the company assesses their ERM and business continuity management (BCM) maturity level, keeping standards like ISO 31000 and ISO 20017 as the benchmark. It then examines clients' business model by comprehending their value proposition, customer segments, various channels of delivering value, customer relationship, and revenue streams. Subsequently, RWI runs business process mapping after a thorough discussion with clients to get an overview of their technology infrastructure and organizational design that plays a role in delivering value to customers.
We allow organizations to have a quick win by proactively managing enterprise risks and taking the essential steps to explore their business opportunities
Once RWI gets a clear picture of the client's business environment, the company develops the risk profile that gives them an understanding of the emerging risks. The upshot of this risk engineering process is risk modeling and early warning system that alert clients to take the necessary action at the right time.
Fundamentally, RWI's technology can be divided into two separate modules—Risk Monitoring dashboard, and active risk modeling and early warning system. The Risk Monitoring dashboard is predominantly for monitoring and reporting an organizations' risk status. It allows clients to view their risk profile in the risk map that the company develops for them. As an essential risk reporting and monitoring tool, Risk Monitoring dashboard allows organizations to analyze their risk practices on a quarterly or annual basis. In a near zero time situation, organizations can leverage the company's risk modeling and early warning system. The system gives companies an in-depth insight and understanding of the emerging risk and alerts them to take proactive measures before they cross the threshold value. With these modules, the company promotes a forward-looking outlook within organizations to prevent risks by taking pre-emptive actions in critical situations.
Jacobus reminisces the case of a construction company involved in almost 30 projects annually, which required 30 different support teams, including procurement and financial department. RWI developed for them the early warning system which integrated the key projects in one dashboard and highlighted the risk areas based on key risk indicators in 160 projects, including legal contracting and procurement. By addressing the risks proactively, the client could deliver successful projects.
Amid the growing importance for effective risk management strategies as the means for building brands, RWI stands resolute to address the evolving needs of the organizations. The company is bringing a fresh perspective through its state-of-the-art solutions and will continue to demonstrate the efficacy of its risk management tools. In fact, RWI is striving to integrate its solutions into the clients' core process by designing a framework and rewriting the standard operating procedure (SOP) where risk management is at the nexus of their business operations.