With an astute talent to predict the impact of risk on business, Ben Stevens, Founder of Risk Dashboard, has played a major role in designing strategies that minimize corporate failures. A firm believer in the notion that 'one of the biggest risks is not taking a risk,' Stevens is motivated to disrupt the enterprise risk management sphere. Stevens designed the Risk Dashboard—an online tool that automates the risk assessment process, and used complex algorithms to build an intuitive, dynamic dashboard. "While the market is flooded with state-of-the-art software targeted to certain business aspects such as cybersecurity and health and safety, there is very limited enterprise risk software that asks the existential questions that are critical in a constantly changing business environment," informs Stevens. "Functioning as a virtual risk and strategy officer, the Risk Dashboard allows companies to do away with the maladroit spreadsheets for risk management."

Risk Dashboard has a unique risk meeting strategy approach to risk (blending both traditional risk and strategic planning tools) to help businesses identify, assess, and mitigate their entire spectrum of enterprise risks and opportunities. The company's Risk Dashboard sends a series of questionnaires to the clients regarding various aspects of their business and automatically builds summary reports on key risk areas. The questions are based on business best practices and deal with strengths, weaknesses, opportunities, and threats (SWOT). The Risk Dashboard not only assesses the organizations' risks by asking intelligent questions around clients' business model and technology but also prepares them for future business opportunities. The software has an engaging graphical user interface (GUI) and is Gantt-Charts enabled. Stevens highlights that the dashboard's GUI is inspired by the old Volvo that he restored, drawing parallels in design and color scheme. The Gantt-Chart feature is a recent addition, at the request of some of his clients, and further transforms the tool morphing it from a diagnostic tool to something that is action oriented.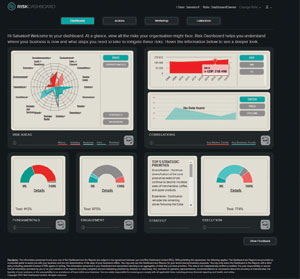 The Risk Dashboard automates what is otherwise a tedious multi-step process requiring users to interview people, collate information, and aggregate the data. For organizations that already have risk assessment managers or strategy planning teams in place, the Risk Dashboard still adds value by taking the inefficiencies out of the information aggregation and reporting process. Risk Dashboard gives special attention to the security of the data it draws on for its reports. The dashboard is hosted in the cloud and requires two-factor authentication for access. The site is SSL encrypted and independent security reviews are regularly conducted. Steven's notes that the Risk Dashboard is one of only a handful pieces of risk based software that requires two factor authentication.
The Risk Dashboard has won several major clients such as Citta, TSG, Vista, and Electric Kiwi in a short time span. Although the Risk Dashboard is marketed as a risk tool, many clients use it as a strategic planning tool. For instance, one of Risk Dashboard clients, a global children's shoe brand, Bobux, used Risk Dashboard to prepare summary reports on SWOT, top risks, opportunities, and TOWS matrices and to facilitate the strategy and risk sessions at a lead team level before presenting the output to the board. Bobux gained insights through the Risk Dashboard when opening up a new product category, taking back a key market from a distributor, and confirming the need for the business to relocate based on the staff feedback.
Currently, Risk Dashboard is building market feeds for external risks and market opportunities. The aim is to empower the software to trawl the net for updates on Key Risk Indicators (KRIs) or key opportunity indicators based on keywords. Stevens is hopeful that machine learning will prove to be highly advantageous in this new endeavor.