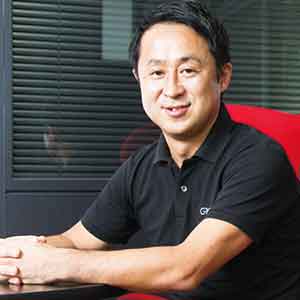 Yoshikazu Sasaki, CEO
Governance, risk management, and compliance (GRC) collectively refer to a structured approach to aligning IT with business objectives while effectively managing risks and meeting compliance requirements. A well-planned GRC strategy comes with multiple benefits: improved decision-making, more optimal IT investments, elimination of silos, and reduced fragmentation among divisions and departments, to name a few. "Although organizations across the U.S. and Europe are familiar with GRC as well as enterprise risk management (ERM), people in Japan have hardly been aware of it. So, when I met a person deeply involved in the GRC space in 2009 and came across the Unified Compliance Framework (UCF), the world's largest library database of interconnected compliance documents, I decided to disseminate the database across Japan through my company," states Yoshikazu Sasaki, CEO of GRCS. Founded in 2005 to help Japanese organizations overcome their various impediments by utilizing the power of IT, GRCS now primarily focuses on GRC along with enterprise security.
The fact that Japanese companies lag behind in GRC and have little control over their workplaces— from handling methods to information transfer has been leading to a significant loss of opportunity. It is important that they effectively manage and capitalize on risks to grow their business in adherence with the ever-changing compliance requirements. "Besides, most of these companies dedicate no budget toward GRC, and that is where we target our offerings, making them affordable and available to all," adds Sasaki.
GRCS offers products for corporate and cybersecurity risk management, incident detection and visualization, access control, and more.
ERMT helps surface potential risks that might have been left undetected along with providing visual countermeasures to improve decision-making
The company's ERM tool, "Enterprise Risk MT (ERMT)," assists clients in managing risks at the granular level while sustaining corporate growth. It complies with ISO 31000 international risk management guidelines and provides company-wide risk management for multiple use cases. Based on a series of processes that recognize and evaluate risks for the entire organization, ERMT minimizes residual risks, allocates resources preferentially to respond to important risks, and continuously strengthens the risk management system. Additionally, ERMT supports the disclosure of specific risks in future securities reports and improves risk communication across an organization by visualizing risks.
As a Salesforce-based cloud service, ERMT can be installed quickly and effortlessly with a cost-effective license model. It allows for seamless customization and enables the systematic management of all kinds of complicated risks. At the same time, ERMT helps surface potential risks that might have been left undetected along with providing visual countermeasures to improve decision-making. In addition to ERMT and other risk and security products, GRCS also offers risk management consulting for better global governance, improved risk management efficiency, GDPR support, personal information protection, and more. The company's proficient and flexible consultants deliver 24/7 service and are capable of catering to every requirement and regulation change. "And if we do not have a solution for a specific client need, then our consultants suggest a third-party product that can best solve the problem," mentions Sasaki.
To monitor and manage risks effectively—whether related to governance, security, compliance, or any other aspect—is the cornerstone of each of GRCS' offerings. To this end, the company consistently endeavors to understand market trends and stay up-to-date with laws and regulations. Although GRC has not quite permeated Japan, a significant number of companies looking to improve efficiency from a global point of view are demanding GRC solutions. "As Japanese enterprises become increasingly GRC-conscious, the market will grow too, which is why we will focus on creating an environment where organizations can function smoothly without worrying about GRC and trust us to manage their risks. In addition, we look forward to expanding to China, Hong Kong, Korea, Thailand, and Malaysia—countries with distinct languages and hence, unique risk management requirements," concludes Sasaki.
CIO Advisor APAC has shortlisted GRCS as one of the 10 ERM solution providers across Asia-Pacific.